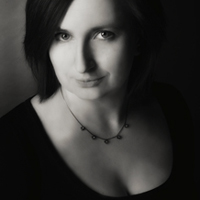 Born in 1978 graduated from the Higher School of Ecology and Management in Warsaw (landscape architecture) and the Academy of Visual Arts in Poznan (photo art).
Member of ZPAF (Association of Polish Art Photographers) and UNAC (Union Nationale des Arts Cultureles).
She deals with photography deals from 1993, the main topics are a widely understood "human being"s and a landscape. She also publishes articles on photography and creates graphic designs (postcards, calendars, catalogues, book covers, etc.) On your account has also the well as this she has completed some projects connected with film and theater. In the years 2004-2006 led photography workshops for Algerian youth (for UNAC).
Motto:
Since I was a child I have been accompanied by a quote from The Little Prince (A. de Saint - Exupery), the words, which the fox said to the Little Prince when seeing off: "And now here is my secret, a very simple secret: It is only with the heart that one can see rightly;what is essential is invisible to the eye."

The message given by this brief thought has allowed me to see another world, a better and more beautiful one. What do I want to show with my photos? What I can feel, what I can see ... in short, the world according to me. I know that my pictures are perceived in different ways, but as many people as many interpretations. And that is a point. That each should have their own association with the observed image.

I photograph not only the world as such but also people - most often undressed. Then you can see what they are really like when there is no way to conceal the truth under the layer of a dress... But I don't expose them to the end, I try to capture the slightly crumbly boundary between light and shadow, leaving the note of allusion. In fact, concealed in the shadow of our desires, the contours of unreals worlds ...

Effects of my work - each picture has some significance for me.

Indywidual exhibitions:
1994 "The environment and its destruction",
Mińsk Mazowiecki
1996 "Objects historic administrative region of Siedlce",
Gallery of the House of Culture, Mińsk Mazowiecki
1997 "Our world..." , Gallery of the House of Culture,
Mińsk Mazowiecki
2000 "Being a woman...", Gallery of the House of Culture,
Mińsk Mazowiecki,
2001 "The different faces of the portrait", Gallery of the House of Culture
Warsaw-Włochy
2002 "The flowers", The Gallery Tea "Magic Tea" Old Town Square, Warsaw
"Dreams", VI Festival of European Culture in Algiers, Gallery Racim,
Algiers, Algeria
"Dreams" Days of Polish Culture in Algeria, Culture House Gallery,
Tizi Ouzou, Algeria
2006 "tenir et sentir", Galerie El Aurassi, Algier, Algieria
Collective exhibitions:
1999 "Pictures", Imielin Gallery of the House of Culture, Warsaw
2000 "Painting and Photography", Triton Gallery, Warsaw
2001 Exhibition Collective Students Academy of Visual Arts,
Scene Gallery on the second floor, Poznań
2002 Exhibition Collective Students Academy of Visual Arts, BWA, Poznan
"Odor", an exhibition collective listeners rate study workshop ZPAF
photography, Old Orangery, Warsaw Gallery homeless,
Reform Plaza, Warsaw
2003 Bezdomna Gallery, Lodz
II Annual Exhibition of Photography Listeners Study Photography ZPAF,
The Old Gallery, ZPAF, Warsaw
Author's presentation, exhibition graduates ZPAF Study of Photography,
The Old Gallery ZPAF, Warsaw
2004 Factory of Photography 'Manufaktura', Lódź
"Odor", Traffic Gallery, Warsaw
2005 "Where are we?", The Small Gallery, ZPAF, Warsaw
"Smell", Gallery of Photography Jabłkowskich Brothers, Warsaw
Gallery homeless, Union Building Management, Union City, New Jersey, USA
Gallery homeless, Nantes, France
2006 Gallery homeless, Algiers, Algeria
"Between sky between the earth" - Exhibition after contest